Sister Lucia's testimony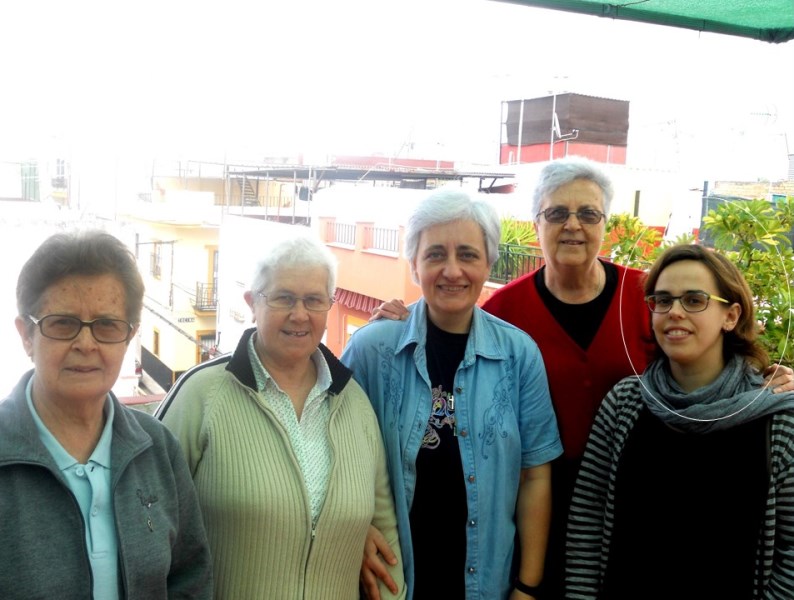 I always knew that God and the poor would have an important place in my life; but as for how, it's another story …
My name is Lucia; I was looking for God and wanting to give my life for the poor when I discovered that as a Little Sister of the Assumption, I could realize this dream and be happy, very happy!
My family transmitted to me a simple faith that accompanied our life with serenity, through daily prayer before meals, before getting into the car, before going to bed; our faith was celebrated in the Eucharist, and it offered forgiveness. If my father or my mother had the opportunity to confess in the chaplaincy of their work or between noon and two in the afternoon, when they returned at home, they were happy and the atmosphere was festive.
At school, my faith grew with my friends and with the desire to study the Gospel in religious classes that gave me a taste for prayer; I also had the opportunity to commit myself to the poorest by opting, either in the classroom or on the playground, for the most vulnerable children and participating in activities and camps for young people that made my option for the poor mature. I also learned to discover God in nature and to make Creation a meeting place … as my first commitment said, which I repeated every day and every year with faith: "I promise to love God in nature, to serve to my brothers with love, self-denial and dedication, fruit of the demand that arises from the Gospel of Jesus. "
As I grew up, I began to ask myself many questions, I needed to deepen my faith beyond my family and school, to commit myself in another way.
It was by chance that I met the Little Sisters of the Assumption, in a neighborhood where I had never set foot. I am sure that the Lord guided my steps towards this place; I felt immediately at home. With the Little Sisters, I discovered Jesus and had the feeling that what I had been looking for: to unite God and the poor, was taking shape at last.
I started to participate in youth ministry activities, went regularly to his community, celebrated Etienne Pernet, read … Books had a great importance in my search for meaning at that time. He had faith, but also many, many doubts: in what, in whom did I believe? Did I want to be part of the church with your inconsistencies? Who was this Jesus that attracted me? What if all this was just an invention? … On the one hand, I tried to deepen my faith, to appropriate it, and on the other, I learned to live with doubt.
I began to pray, to seek and to read. In the library next to my neighborhood, I discovered a treasure: a collection of books on the theology of liberation. G. Gutiérrez, Boff or T. de Chardin accompanied me to rediscover the faith and, by reading and praying, something moved inside me, I felt what the verse says: "The love of your house will be my torment." (Jn 2,17) and always full of doubts, I discovered what it looked like.
In the midst of this, I made decisions, such as studying social education in order to give my life to the poorest and work for a more just world.
Shortly before finishing my studies, I gave myself a year to see what I would do next. During that year, I participated in a youth camp in Brazil with the Little Sisters. After living these months with them, I had the certainty that I wanted to be part of this charism, and with other young people we began to think about how to live the charism from our secular identity. Quickly, while I was praying, I thought that I had to be honest with myself, despite my reluctance: certainly, the idea of ​​being a religious had never seemed attractive to me, but during the time I had shared with the Little Sisters in everyday life, I had I felt very happy … Was not that what I wanted for my life? Be happy in the gift of my life to God and the poor. Then I knew clearly that I wanted to be a Little Sister of the Assumption, I was certain that this was the will of God for me that I welcomed for the first time with immense joy.
And from that moment, until today, as I approach the day of my perpetual commitment, I remain fully happy and free in this daily option of being Little Sister of the Assumption, which constitutes my being and my life
Lucía UCEDA (Community of Sevilla – Spain)