International Session for young sisters at the Mother House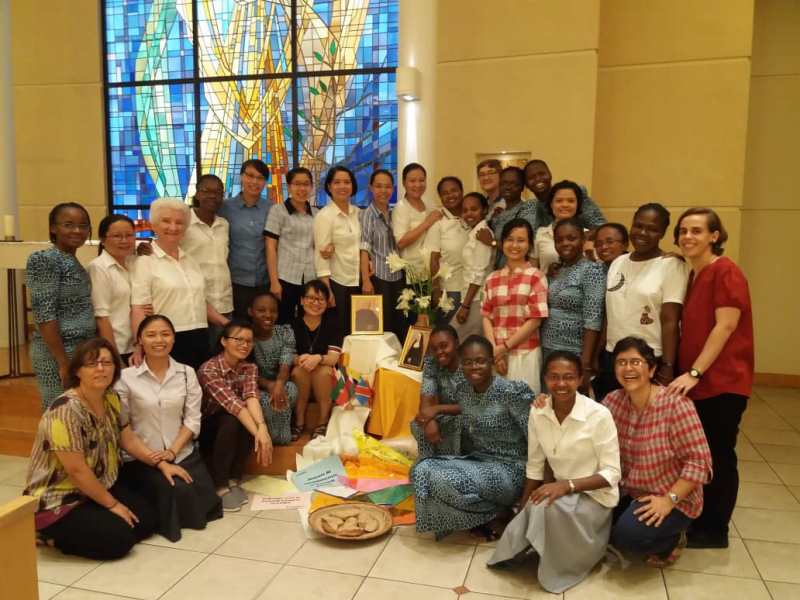 "As members of an international Apostolic Congregation we discover the universality of the message which gathers together people of every continent. In the midst of their differences we recognize the common characteristics of these people to whom we are sent. Our solidarity extends beyond our local communities and our countries. It is a challenge to unity" (from our Rule of Life)
In this same spirit by which we form an international body called to live unity we – the 25 young professed sisters from Vietnam, Madagascar, Burkina Faso, DRC, Spain – were pleased to gather together once again, after 2-3 years. Our 10 days were divided in 3 different parts:
First, we had a time to get to know each other better and to welcome one another as young professed sisters and also as a Congregation.
Then we had a time for reviewing our mission with three different moments: See, Judge and Act.
Thirdly, we entered into the main theme of our session: "towards a full understanding of sexuality"
We are blessed and happy to be here for this enriching experience, for this opportunity to deepen our sense of religious life, as well as our LSA charism, so as to bring about hope in the life of each human being and to "win back a people for God" (E. Pernet
At the end of each of these three moments, we are happy to see how the Spirit is at work in our lives and that, with the strength of the mission, we are becoming more and more Women-Religious-Apostles following Christ where He calls us to live. )
On the last evening, we danced at the colours of our countries. The warm atmosphere reflected the fraternity we have been building during these days, as well as our rich and deep sharing which help us to go back with a renewed strength to the different horizons where we are called.
We send our regards to all of you, please accompany us and support us in your prayers.
With all our love,
Bernardine Munketalingi and Nguyen Thi Minh–Little Sisters of the Assumption
[URIS id=9994