A Little Sister of the Assumption at the "Arch of Jean Vanier"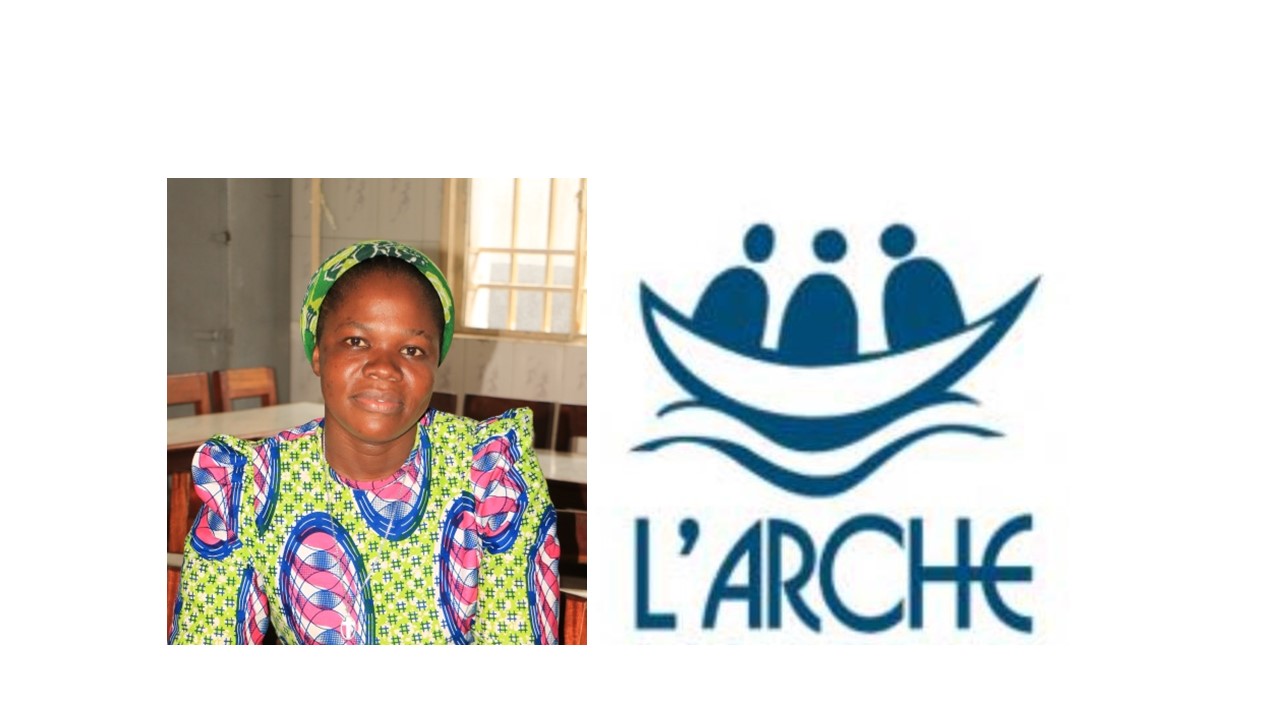 My name is Yvette, I just made my perpetual vows in the DRC on August 31. As part of my preparation, I was offered a 3-month apostolic training at "L'Arche de Jean Vanier".
This is the time to share my experience with you. Indeed, the Arche is a centre that welcomes people with mental and physical disabilities. This experience introduced me to the world of people with disabilities for the first time in my life. Accepting their fragility and loving them is a grace, it is to be learned little by little. And it is also the place where I was able to witness my life as a Little Sister close to the poor and the youngest.

When the community offered me the opportunity to attend this center, I accepted it unconditionally. The first day was, as usual, a day of discovery and encounters.
When I arrived at the house, I met three women in the dining room who were waiting for volunteers to accompany them to shower. Suddenly, I thought of the Gospel of the persons with disabilities who was waiting by the pool for someone to help him/her dive into the water when it started to bubble.

I was very touched by the fact that these women were dependent on our help. In the home where I have been living during this time, there are three women and four men, all mentally and physically handicapped. They form a community of seven people with assistants and each one accepts his own and each other's fragility. I integrated into their movement, the dialogue was triggered between us by a small presentation and my name remained in their mouth. For my part, I learned to remember everyone's first name. They have become my everyday friends.

I very deeply admired Jean Vanier's initiative to give value to all these people with disabilities. This consideration is less important in my country, where these people are often mistreated, less valued and sometimes mistaken for victims who carry curses, whereas here they have the same rights as everyone else, because they have qualities and potential.

What I liked most about it was that we gave everyone the opportunity to live, to develop their gifts. I was impressed by what they are doing, despite their fragility.
From the beginning, I was accompanied by this word of God which encouraged and supported me a lot: "Every morning, he awakens my ear so that as a disciple I may listen" (Is 50:4). Christ awaits me every day in L'Arche, I go to meet him, He who has no hands or feet to work with, it is through my people that he carries out his mission, through small gestures of everyday life.
I help Jesus to continue his mission with these simple little gestures of love and tenderness.I discovered the face of Christ, poor in those of the handicapped. I met Jesus through these people. With them, the relationship was easily established, given the temperament of each one.

I have also developed my patience with them, because without patience there is nothing we can do, and it is a real school. I grew up with a sense of responsibility because it is a heavy burden. This experience touched me and helped me a lot: to see the mentally handicapped living together as a fraternal, united community, like the children of the same family. I loved and I was really touched by the attention they have for each other, those who are less fragile serve those who are the weakest by giving them a loving look.
I felt challenged, insofar as, I have all my senses in full, don't these little gestures cost me? They experience tensions between themselves, and after a few minutes, they reconcile and come back to life, it's a mystery. The words "forgiveness and thanks" are never missing in their mouths. I appreciate these aspects.
Jean Vanier said: tensions are necessary moments in the growth and deepening of a community. The essential quality for living in community is patience.

Today, for me, the handicapped are visible signs of God's presence, the smallest and poorest who are Jesus' favourites. I am very happy with what God has put in my way during this time.
"Lord show me the poor…", said Antoinette Fage (our founder) and He showed me them.
I did not choose the place to do my internship but God inspired the community.
I can only express my gratitude for this, because this place has transformed me.
I now know how to be attentive and approach a person with a disability.
Trust takes us away from fear, I am comfortable with my friends at L'Arche. I always ask God for the grace to love them. When we establish a relationship of friendship and esteem with them, they experience great joy. La m
The initial curse turns into a blessing. Creating simple relationships, understanding that it transforms us and makes us happier, that's what I've experienced with people with disabilities.
Sr Yvette, Little Sister of the Assumption