International Laity Commission meeting, june 2019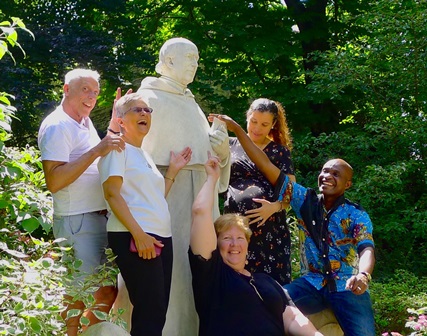 The International Laity Commission Sr. Annette Allain, (USA, Co-coordinator), Roger Malenfant (Canada, Co-coordintor), Diana Neviere (France), Georges Lubamba Nzadikonda (DRC). Maryalice Spencer (USA), met at the Mother House in Paris, France June 24 – 28. It was the first time meeting together in person. We been meeting monthly together for the last 9 months by Zoom Video Conference.
Sr. Agnes David brought us up to date with the work of the last Commission. Sr. Pilar Trillo shared the work of the International Justice and Peace Commission and we are working on how these two commissions can work together.
Two of the AOLA, Suzette and Marinette spent an afternoon with us. The explained their lives and their call. We are also thinking about how we might work together in the future.
We met with the General Council to share the work we have prepared for the future.
We are really happy to begin this work as a commission and you can be sure you will be hearing from us as we continue to work
"Together, Little Sisters, AOLAs and Lay Companions are committed in diverse ways. Let us warmly welcome this spirit of mutuality as a gift of God so as to deepen our common journey. Let us commit ourselves even more in ways of solidarity, sharing, mission, work, projects, prayer, formation, organization … Together, we will become active participants of the Reign of God." ( 2017 General Chapter)
Each day our day began in the caveau at the tombs of our founders asking for their guidance as we, Little Sisters and Laity, move together into the future sharing our Common Treasure.