LIVING THE DREAM OF THE FAMILY OF GOD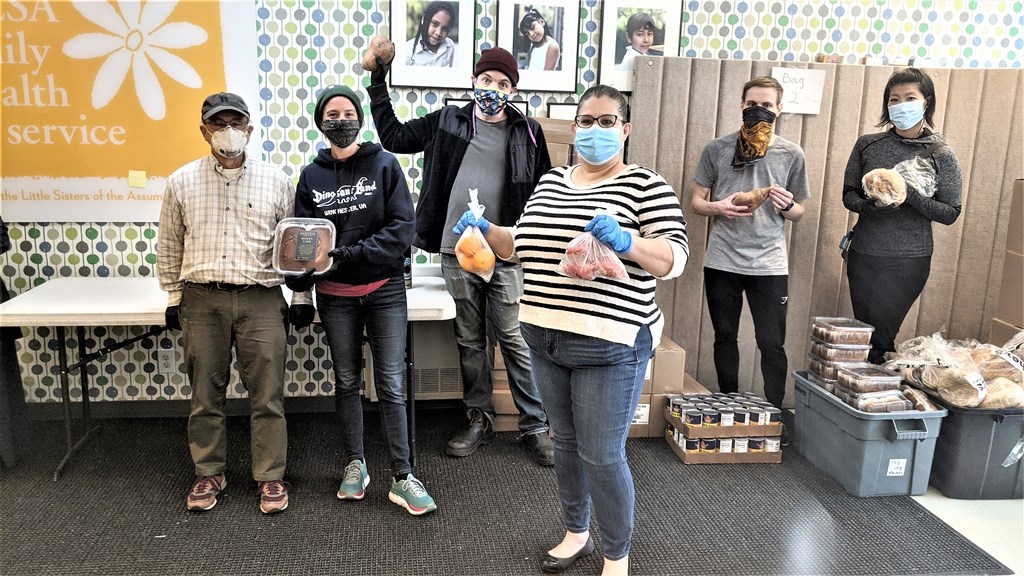 "Families are the first place where the values of love and fraternity, togetherness and sharing, concern and care for others are lived out and handed on."
The Little Sisters of the Assumption from its founding moment are bonded with the poor throughout our global world. This commitment is inscribed in our original constitutions in the words of our founders: Etienne Pernet and Antoinette Fage: "I have seen the affliction of my people. I have heard their cry. Go, I send you." "It is for the family that you exist." "The lot of the Little Sisters is with the poor and their family. She will love this mission preferring it to all else." (Fr. Pernet, founder)
The affection embodied in this mission is inscribed in the words of Antoinette Fage: "Show me the poor and I will run to them with a loving heart. " This familial and relational spirit is highlighted in Pope Francis's encyclical "Fratelli Tutti." It is a spirit absent significantly from our global world and one that cries out for existence today.
Though we could chronicle the history of the Little Sisters of the Assumption and our lay partners in mission on the 5 continents and 20 countries of our global world, in this brief article we will focus on the presence of the Little Sisters and those in mission with us in the East Harlem Community in New York City.
In 1958 The Little Sisters concentrated their services in East Harlem with the corporate name of" Little Sisters of the Assumption Family Health Services"
They began in a store front operation on 115th Street and then grew to a 4 story brownstone on 119th Street and 115th Street which included a residence for the Sisters. In the 1970's they built a 5-five story green building on 115th street to house all their services. LSA Family Health Service strengthens and empowers vulnerable families and children by meeting their basic human needs for food, healthcare, education and safe homes and environments, in the belief that affirming families in their own dignity improves the entire community. LSA FAMILY HEALTH SERVICE has been recognized as a critical and valued non-profit organization in East Harlem.
There came a recent moment in time in which we entered into global solidarity due to the pandemic when, in March 2020, the Corona Virus entered into our lives, our country in a ferocious way. New York became the epicenter of the Virus and our black and brown brothers and sisters and immigrant families became its victims in a disproportionate way. Many families were undocumented immigrants and faced insufficient funds. Wage earners lost their jobs since many were in the informal economy. They faced hunger, risk of eviction and fear of the virus. There continues to be a great fear of seeking health care due to being vulnerable to Immigration & Customs Enforcement (ICE) who has been actively and visibly circulating and deporting people from our neighborhoods for the past couple of years.
The needs of families exploded in this Covid-19 reality: food, household supplies, diapers, baby food & supplies, health care, evictions and so much more. The vulnerability of the families caused us to evaluate our own programs and services and to examine how we could be so much more helpful during this time of extreme need. We shared the plight of the families with our donors and the response was remarkable.
"Only a gaze transformed by charity can enable the dignity of others to be recognized and, as a consequence, the poor to be acknowledged and valued in their dignity, respected in their identity and culture, and thus truly integrated into society."
Money and supplies flooded in! It was like having an extended family of donors who saw those in need as family as well. An example that best describes what happened has to do with food. For years we have had a small food pantry that was coupled with an advocacy program that helped families get access to benefits and other supports. Practically overnight, this program grew to enormous proportions. The 200 families that came for food in one week, turned into 800 families per week for months. At present the number has remained at 400 families per week but this is predicted to rise again due to a beginning resurgence / second-wave of Covid-19. With sensitivity, compassion and empathy, a multitude of volunteers continue to bag food, create a protective environment, wear protective gear, etc., in order to protect families coming for food.









The image of the people, so patient in long socially distanced double queues that spanned the corners of 115th street around both 1st and 2nd avenues on many days, was truly a living Gospel scene of the Feeding of the Multitude. These are such sacred moments.
The central theme of the papal encyclical expresses our common belonging which indeed makes us brothers and sisters. These families live under enormous stress as they are caught in a system that forces them to seek help in this way. They do not like to beg any more than any one of us would if we fell into similar circumstances. They do not have the security of having more than they need; they live from day to day, struggling to meet the most basic necessities for their family and loved ones.
from day to day, struggling to meet the most basic necessities for their family and loved ones.
"Here we have a splendid secret that shows us how to dream and to turn our life into a wonderful adventure. No one can face life in isolation… We need a community that supports and helps us, in which we can help one another to keep looking ahead. How important it is to dream together… By ourselves, we risk seeing mirages, things that are not there. Dreams, on the other hand, are built together".[6] Let us dream, then, as a single human family, as fellow travelers sharing the same flesh, as children of the same earth which is our common home, each of us bringing the richness of his or her beliefs and convictions, each of us with his or her own voice, brothers and sisters all. (No. 8[i])
We have been blessed with so many signs of Light and Goodness not only in East Harlem, but in all of our ministries. This is been very encouraging and heart-warming at a time when people are struggling to make their ends meet like never before. In general, people have very generous hearts and are so willing to lend a helping hand once they become aware of the needs of others. Our recent Presidential election gives us a glimmer of hope, that under a new administration it may become possible to work together toward a more just and equitable society, country and world.
For the Little Sister, Fratelli Tutti struck a familiar chord which resonated with the theme of our 2017 General Chapter: "TO GO OUT TO MEET …. Inhabit and Care for Our Common Home … Leaving in haste to cross borders.." "Today, aware of being bearers of life and joy at all ages, like Mary and Elizabeth, we are called to an encounter that generates promise…. "This spirituality of Encounter and Visitation nourishes our relations … Like Mary, let us not be afraid to go beyond the barriers, those of individualism, injustice, extremism, of everything that destroys human dignity. In this mission, it is our Hope that is at stake. Let us unite with women and men who are already engaged in responding to the cries of those impoverished families, migrants, refugees, women…, all in search of happiness and aspirations of a habitable planet."[i]
The heart of our mission, since our foundation in 1865, Paris, France, continues to be focused on the Family. In the United States, we have been privileged to be present among underserved families living in poverty since 1891. Everything we do seeks to unite people in a spirit of Family; One Heart, One Family where all people are called by name. The spiritual covenant we share with our LSA Family in Mission reflects this desire:
Building on our experience of creating Family,
we are connected by a desire to transform our world
beginning in our local communities.
We commit to learning from and joining with
the global movement for social justice.We are one with all creation.
We partner with and celebrate the diversity
of all those who journey with us.
In closing, our own Constitutions about Mary's Assumption continues to be a reminder and source of great hope.
"Mary's Assumption gives us the certitude that a new world is being prepared; she sustains our hope and gives us the courage to dedicate ourselves with our brothers and sisters in work for the transformation of humanity." [ii]
We are called to recognize and give witness to the Reign of God among us; God's dream for us. The experience of these past months and what we have witnessed in our larger community of donors, in the generous giving of our staff and volunteers make us ask the question: "Is this the world that is coming in connection with Fratelli Tutti?" We certainly hope so.
Sr. Margaret Leonard, LSA
U.S. Territory
---
[1] No. 114, Fratelli Tutti, ENCYCLICAL LETTER OF THE HOLY FATHER, FRANCIS, ON FRATERNITY AND SOCIAL FRIENDSHIP, October 3, 2020
[1] No. 187, Fratelli Tutti
[1] No. 8, Fratelli Tutti
[1] 2017 General Chapter Document, Little Sisters of the Assumption
[1] LSA Rule of Life, Article 14
[URIS id=12205]