Sister Zoila's testimony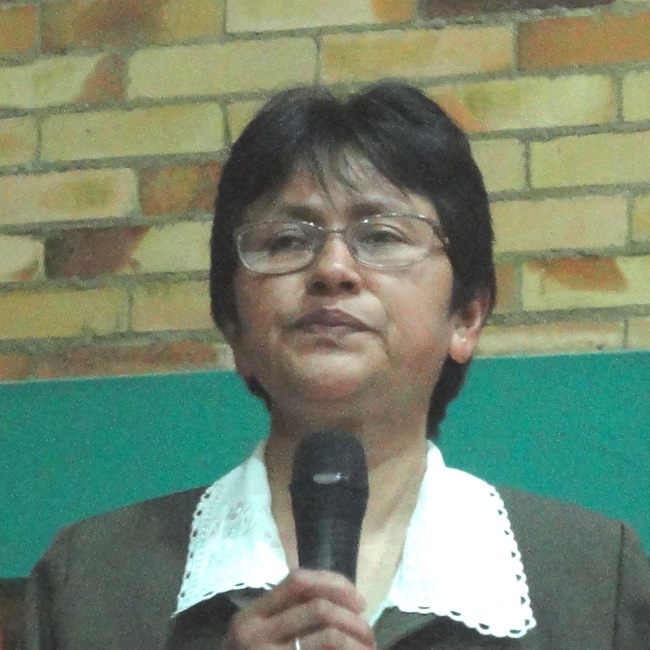 Awakening the vocation

I was born in Goncha, a country house in the North-East of Peru, in a context of violence, one that was precarious, filled with beliefs and superstitions, which gave a different colouring to my personality, my way of being, of seeing life. 
My family, a simple household, very poor, lived on what we cultivated.  I am convinced that it was from my mother that I inherited love for the virgin Mary, and the sensitivity for the poor, for those who did not count for society.  I still recall some of her words as she said to us that: God is there, that is why nothing should be denied to anybody, not even a glass of water, there must be sharing.   
At the age of fifteen I left my parents house to finish my secondary studies and look for work so as to help the family.  In Lima I was welcomed by my uncles with whom I lived for 19 years, looking on them as my second family.
The priest who had been accompanying me invited me to work in a shelter for adolescent mothers who had been turned out of their homes because they were pregnant.  In that place of work, where I was welcomed, where I was constantly in contact with those young women, God revealed Himself again giving me the opportunity not to remain speechless about the injustices I witnessed, about what was happening in the treatment of those persons.  I opted freely to give up this work.  I had not lost the connection with the priest and he said to me: "continue looking for work to support yourself and like that you will not be a burden for your uncles … and go where there are some religious sisters whom I know, they work with the family, do the washing, prepare the meal, take the children to school when the mother is ill."   So it was that I took the path to their house in 1996.  Right from the first moment I was struck by their simple manner of living and the way they welcomed me. 
I began the novitiate once again and after two years I made my first vows in Lima, receiving the missionary assignment to El Salvador.  The experience there was not so easy as my health broke down because of the climate during the first months; at one moment I reached the point of saying to the Lord that, being ill, I could not serve Him.  I feel that God heard me, I recovered little by little and so we began to work in a very poor sector (Asunción) where nobody wants to go, for different reasons: the violence of the Maras, the very difficult path, but we sisters went up there, because it is our place, where the marginalised persons are, being a voice for those who don't have a voice: young people, children, adults, from a close presence.
How could we not continue to respond to this Love with a response of Love?  I expressed my definitive "Yes" on the 16th of August 2014.
I live out my vocation with the joy that God gives me with my sisters in the community, a place where salvation occurs, not through human strength nor one's own merits but with the help of His grace and the light of His Spirit, who helps us not to remain in conflicts among ourselves, but who leads us to pardon, to reconciliation, to conversion.   Today, more than ever, we need to follow, being credible in the announcement of the Reign with our life in the midst of this world, but without being of the world. 
At present I have been in the Congregation for fourteen years, and ten years were outside of my country. I am happy, I love the Congregation and my main desire is to continue offering my life in the service of those who are the poorest
As a conclusion I will say that I nourish my spiritual life through attentive listening to the Word of God each day, meditated and reflected on in community, in prayer.  This leads me to open myself to the needs of my brothers and sisters who are suffering.  Similarly, the Eucharist is the vital food for us Little Sisters and for the spiritual life of every Christian. .
I agreed to share this testimony to my vocation with the aim of proclaiming Jesus Christ, Servant and Saviour in my life.  I want to say it to the young men and women who have not yet found a meaning to their lives and who are not afraid to welcome this experience which the Lord offers them and who may risk using up their energy in His service. 

United for the construction of the Reign,
Zoila